today i feel old and useless.
at noon i went to a protest in front of the us-embassy.
pick-nick for peace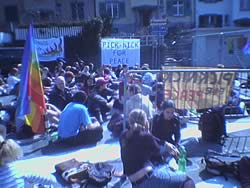 there this young aggressive activist acused me of being an undercover cop.
he took out a camera and held it out towards me, pointing it at me like it was some kind of a weapon.
he pushed it right into my face and took a picture of me.
when i asked him, why he did this, he answered he did not speak with pigs like me …
he said he is going to publish the photo in the internet.
outch.
i can't really explain why this hurt me an awful lot.
i guess it just really hit home the fact, that i am an old man now – the enemy to some, simply because of the way i look and dress.
yet i dont feel like digging out my leather jacket or growing a mohak in order to appear more credible to them.
and i would love to able to participate in a protest without getting wrongly accused.