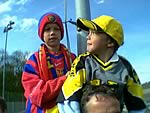 these two brothers are supporting opposing teams – in full gear with a smile.
AND: left wing militants are just as stoopid as the right wing hooligans.
the left wing macho idiots standing in "street fighter"-poses on the roof of the autonomous cultural center after the game, provoking conflict with the football hooligans from the "safety" of this island without police repression, that is sooo whimpy. throwing bottles at trains is so lame.