one week down of the worldcup 2006, here's my faves:
uhm say what?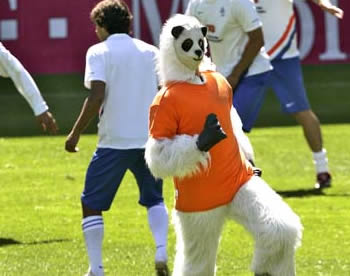 most appropriate place to have a team-hotel:
australia in zweiflingen, wald- und schlosshotel [zweifeln means doubting in english]
tunesien in schweinfurt, mercure hotel [schwein means pig, hence this is muslims staying in pigfurt]
[via spiegel]
coolest federation website:
the funny names team:
goalkeeper:
antonin kinsky, czek republic
[if he'd looks even a little like klaus kinsky all attackers would run scared]
defense:
marc andre ZORO, cote d'ivoire
[yay for zorroesque defending]
ulises DE LA CRUZ, equator
[not that funny, just plain fabulous]
naif AL-QADI, saudi arabia
[don't know about you, but i'd hate to have a naive defender]
philip lahm
[lahm means lame in german]
midfield:
andrea PIRLO, italia
[just one letter away from pirla]
maman CHERIF TOURE, togo
[maman, i shot the sherif]
mohammed AMEEN, saudi arabia
[amen to that, mohammed]
KAKA, brasil
[stop with the scatological humor already]
strikers:
LOVE, angola
[hey, now thats a snappy name for a striker]
razak PIMPONG, ghana
[maybe this man did miss his sport]
bench:
LOCO, angola
[not sure if i'd want a vato loco in my defense]
otto ADDO, ghana
[otto ODDO would be perfection]
peter CROUCH, england
[his name sounds like a comic sound *ouch* here comes *crouch*]
seiichiro MAKI, japan
[mmhhhh sushi]
PETIT, portugal
[hey, short little players have a right to play as well]
silvio SPANN, t&t
[nimmt sie immer vollspann]
coach:
bruce arena, usa
[a great name for anybody working in stadiums]
still THE most disturbing football related thing, ever
olli k. and michael b. vibrators. why would any women ever want to buy and – god forbid – use such a thing? olliver kahn and michael ballack did slap an injunction on these.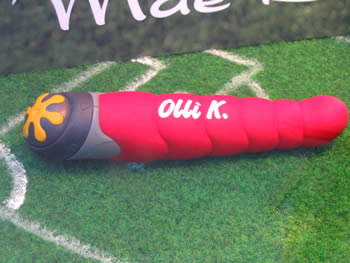 [via blog.zeit.de]
and then i have a question:
what's with the puma shirts, they look soaking wet within minutes of playing. wrong fabric? or do they come with an integrated shower system?