[stuffs what gots stuck in my browser tabs this last week]
TEH w00test summer tune yet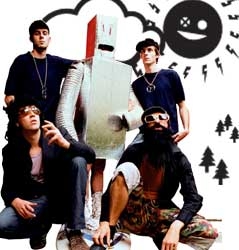 :flash: Da Sign & The Opposite and Friends: sunshine – catchy tune. the w00tness. we dig. "Download it, burn it, listen to it, copy it, share it, enjoy it" – the video [swiss german version] – filewile remix – enfant terrible remix
and then, in no particular order:
footy
:flash: TP: Der korrekte Fan im Wintermantel -the author wonders how the worldcup might get shown on iranian tv this time around; in 1994 they showed images of fake fans in order to avoid too much naked skin. [in german]
:flash: RoboCup 2006 – Bremen / Germany – the official website of the robot worldcup.
:flash: ASCII-WM 2006 – "The best, most ridiculous, most redundant graphical implementation of ASCII!"
:flash: FingerSkilz – The edited highlights! – no one juggles a ball like FingerSkilz; with his fingers that is. [thx f]
:flash: E'z are Gud – england worldcup song set to the shamen's ebenzer goode.
:flash: Goal 2006! – "a media research project focussing on the World Cup in the Era of Globalization". basically they send out sms and mms with useful information. but but but, in the us and canada only.
:flash: flitzer – you play a streaker in a football stadium in this java mobile phone game.
sexy
:flash: iBuzz – the music activated iPod sex toy – "iBuzz is the musical orgasm machine! The music-activated vibrating bullet stimulates you in time with your favourite music. Which song pushes your butttons?"
:flash: How to Take Better Dirty Pictures – so needed. and let's hope we won't have to call the pictures "dirty" any longer.
:flash: New Porker isssue # 6 – excellent pdf magazine with a sex issue [via sexinart]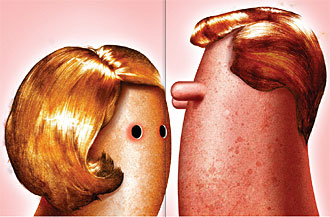 the resty
:flash: stop rokkasho video mash – ghee has produced an amazing and very dark video mashup for the stop rokkasho project.
:flash: WidSets Beta – similar to widgets on mac osx, WidSets allow you to add functionalities like rss and more to your mobile phones. [via joiito]
:flash: DIGITAL MAOISM: The Hazards of the New Online Collectivism By Jaron Lanier – Jaron Lanier finds fault with what he terms the new online collectivism, catchy term that, digital maosim.
:flash: DIGITAL MAOISM: Reactions – reactions on jaron lanier's essay by doug rushkoff, cory doctrow, howard reingold among others.
:flash: Wired 14.06: Posts – bruce sterling rant "As Karl Marx might have put it, participants of the Net unite! You have nothing to lose but your roaming fees."
:flash: TXTual Healing – "Using cell phones and SMS messaging, TXTual healing allows people to use their mobile phones and SMS messaging to fill in the text of large speech bubbles that are projected onto walls and buildings." [via wooster]
:flash: Chia-Ying Lee / Sonic Graffiti – "Sonic Graffiti addresses music experiences for both creators and audiences. A system of devices enables graffiti artists to create and geo-tag music in the urban space with real spray cans." [via wmmna]
:flash: Urban post-it in Geneva – nicola nova has spotted this "intercative" post-it somewhere in geneva, its says "drop a note, tick here".
:flash: PinPix en – cool pins from russian designers.
:flash: BNL Blog – barenaked ladies – oh wow, they still exist? – have a remix contest.
:flash: Greatest 500 Albums: MP3 Download – 1. beatles – 500. eurythmics, all the best albums for download cheap at allofmp3.com, cheap, with userfriendly DRM. how long can this be legal?
:flash: cassette belt buckles @ sveetcouture.com – retro belt buckles made from cassette tapes. [via WFMU's]
:flash: Centraal Beheer Achmea Calucci Game – point&click game, help a guy in a witness programm escape the mob and an overeager major. [via 4rthur]
:flash: Family Tree Jewelry – lovely idea for jewelery, schlepp your ancestors around with you hanging from your neck. [via vvork]
:flash: Bush Pilot (with English subtitles) – meet the guy who runs bush. literally.
:flash: kaldosh: you've just been…. – hasslehoffed, via animgifscraper
swissy/german
:flash: fitzgerald & rimini – elsa fitzgerald kann schreiben. wer in letzter zeit mal einen blick in's megaphon geworfen hat oder an einem poetryslam war, weiss dies bereits. endlich wird ein wunsch wahr, jetzt bloggt elsa auch.
:flash: NewsBattery.ch – "da werden die artikel von oraclesyndicate und anderen blogs als monatliches PDF angeboten". [via leumund]