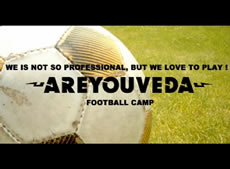 "Get into Football Bastelizm"
the video AreYouVeda Football Camp saves the day, or the month actually.
as far as i am concerned the worldcup is over. what a huge dissappointment, defensive football rules again. the last group of my favorites has been eliminated this past weekend. and since i even do have a "group" of favorite teams, i guess that makes me the open minded kind of fan.
so from now on, i'll admit it, i'll mostly be a negative fan in the sense that i don't want 2 teams to win: germany and france. and its not looking good on both sides. the only thing that holds any interest now is to hopefully watch germany lose against italy and france against portugal. its not likely, but hey, as they say in germany, die hoffnung stirbt zuletzt, hope dies last. germany does not deserve to win this, yet even i have to admit, they prolly will. so i will be a full-on tifosi this week.
oh, got sidetracked there, sorry about that. back to the mad AreYouVeda crü.
if you liked sunshine, the wild and fresh summer track by da sign & the opposite, blogged here, you can now vote for the video to be played on roboclip SF. lets win this.
76 Da Sign & The Opposite Feat. MC Sunshine Vote!