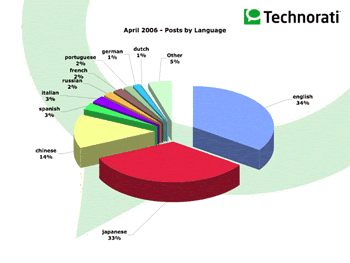 in der sonntagszeitung lese ich, dass nur gerade 1% aller blogs in deutscher sprache geschrieben werden.
also warum bitte sollte ich weiterhin meine deutschsprachigen blogumnen schreiben?
give me just. one. good. reason?
weitere infos von david sifry, technorati:
* Technorati is now tracking over 50 Million Blogs.
* The Blogosphere is over 100 times bigger than it was just 3 years ago.
* Today, the blogosphere is doubling in size every 200 days, or about once every 6 and a half months.
* From January 2004 until July 2006, the number of blogs that Technorati tracks has continued to double every 5-7 months.
* About 175,000 new weblogs were created each day, which means that on average, there are more than 2 blogs created each second of each day.
* About 8% of new blogs get past Technorati's filters, even if it is only for a few hours or days.
* About 70% of the pings Technorati receives are from known spam sources, but we drop them before we have to send out a spider to go and index the splog.
* Total posting volume of the blogosphere continues to rise, showing about 1.6 Million postings per day, or about 18.6 posts per second.
* This is about double the volume of about a year ago.

????
ok, ich geb's zu. ich hatte heute einfach keine idee worüber ich schreiben. oder zumindest keine ausgereifte idee. das wetter ist schuld. und das kopfweh. das schlafmanko auch. doch eigentlich gäbs jetzt hier ein nettes textlein über die baldige abstimmung zum verschärften asylgesetz. über zürcher in berner filmen. über deutsche, die zürich entdeckt haben und den oberen letten übernommen haben. über schweizerinnen, die in berlin parktika machen und sagen, hier sind alle so klug und schnell. oder über jPod, das irritierende buch von douglas coupland, der den microautism beschreibt; und darüber, dass man sich angesprochen fühlt, dann aber merkt, dass es kein wissenschaftlicher begriff ist.
bloss, wie soll dieser ganze kram zusammenpassen soll. eben. vielleicht klappts nächste woche. falls ich mich von diesem 1% schock erholen kann.
inzwischen büffle ich weiterhin fleissig chinesisch.