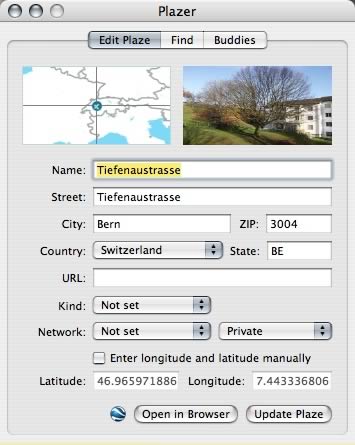 weird. i quite like plazes, a geo-positioning application, that shows the places you are at. they have recently made some updates to the application as well as to their website.
on my computer plazes is usually just running quietly in the background and i don't pay it much mind.
but now that i am getting my laptop ready for the trip to linz and to ars electronica i checked it out with more attention again.
and lo and behold what do you know, according to plazes.com i have moved…
to tiefenaustrasse of all places… no offense.
here is the page where it says "jan zuppinger (aka pieceoplastic). I am currently at a Plaze called Tiefenaustrasse in Bern, Switzerland." lies, presposterous lies. don't believe a word. i have never been there, nor do i plan to go in the near future. yet plazes tells me i have been there for 209 hours! he he
i even vaguely remember that this guy emailed me once telling me about this. should have paid more attention then. it probably went to one of my very low priority to-do-lists. but anyway. uhm.
how do i reset this now? i clicked around the website in vain for awhile and i am either too stupid or it is not possible to change this.
the funny thing is, in the title of the website it says "plazes – we know where – plazed:tiefenaustrasse/etc/etc"
no you don't. thats not where i am nor have ever been. sorry. try again please.