yesterday i met my mum for coffee and she gave me some cool family info. not only was my greatgrandfather on the grandfather's side the big boss at SBB, swiss railway company, but the other one, my stepgreatgrandfather so to speak, was the vise-president at the PTT, the swiss postal service. so together they pretty much pwned the swiss public service sector mid past century.
hah.
a google search gave me nothing on either of them. maybe thats my job … maybe start a wiki with family info?
i did find this cute retro-website dedicated to my beloved uncle and godfather mani matter, who's texts keep inspiring me to this day.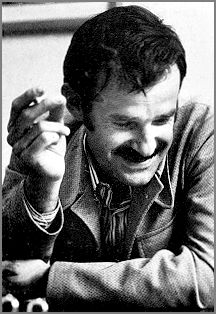 Dr eint het Angscht
Text & Musik: Mani Matter

Dr eint het Angscht
Dr ander chönnt lache
Dr ander het Angscht, dass
Dr eint chönnt lache
Und alli mache si
Alls wo si mache
Us Angscht dervor, dass
Öpper chönnt lache

Und wil nid alli
Über ds glyche lache
Chönnt me mängisch ds einte
Oder ds andere mache
Und s'würd i beidne
Fäll öpper lache
So chunnts, dass si halt de
Gar nüt mache

Si dänke nid dra
Bi däm, was si mache
Bi däm heisst das
Was si nid tüe mache
Us Angscht dervor, dass
Öpper chönnt lache
Dass öpper darum
Ersch rächt chönnt lache

Es isch im Grund ja
Grad das zum lache
Dass si geng Angscht hei
Das öpper chönnt lache
Und was si o mache
Dass niemer söll lache
Es nützt ne drum alles nüt

3/4
Strophe 1:
|C_______|________|Dm______|________|
|G7______|________|C_______|________|
|Am______|________|Dm______|________|
|D7______|________|________|G_____G7|

Strophen 2 & 3:
|C_______|________|Dm______|________|
|G7______|________|C_______|________|
|Am______|________|________|Dm______|
|D7______|________|G_______|______G7|

Strophe 4:
|C_______|________|Dm______|________|
|G7______|________|C_______|________|
|Am______|________|Dm______|________|
|Am______|Dm______|G7______|________|
|C_______|