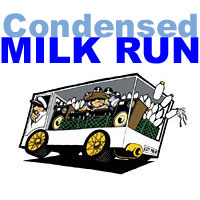 w00t! osymyso has published a new dj mix via his website. it's usual excellent osymyso material, great humerous brilliant.
The Milk Run was a weekly comedy and music show that I mixed for a total of 55 weeks for BBC Radio One during 2005. The "Condensed Milk Run" contains some highlights of the Sony Radio Academy Award nominated show and you can download your mp3 copy today, right here.
My bandwidth is limited so the link may be inactive from time to time,if so please try later..