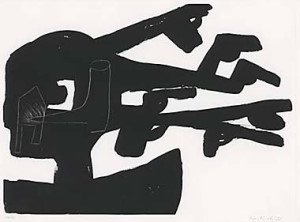 martin disler: endless modern licking of crashing globe
a first big retrospective of martin disler (1949-1996), swiss artist/sculptor/poet, is currently shown at aargauer kunsthaus. very intense, dark, political martin disler had an early brush with succes, but after his early death has failed to receive the recognition he so deserves. the retrospective in aarau apparently for a first time exhibits his later works.
damn. now we need to travel to bloody aarau? hate that. but i have an inkling this artist might be worth it. this is definitely one artist i want to discover more of.