tomorrow i am going to visit the comix-festival fumetto in lucerne and hopefully meet up with my friends wurzeltod and sis. wurzeltod has (official)-blogged an interesting piece on the evolution of speechballoons:
During the 18th century, British caricaturists changed the shape of speechballoons from gothic speech-bands or flags into fluffy balloons, our modern speechballoons.
i quite like the speech-band solution tbh, especially this example [borrowed from the same website]: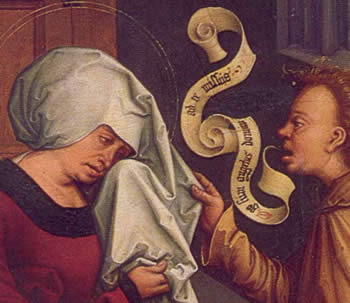 Bernhard Strigel: Saint Anne and Angel 1506/07
on the band it says: "Ego sum angelus domini at te missus". and this would be one of the moments i wish i understood latin. i think it means: "i am the angel dominating yo ass, missus", or does it not?