:flash: well, i missed the mahler exhibit… me = stupid.

© mahler
:flash: blanquet has ms and produces masses of +18 materials. i dunno why i made one sentence from those two pieces of information … some dude wanted to confiscate my camera for taking these photos. and oh boy, what a loss it would have been. me = crap photographer.
.
:flash: the fumetto offical blog [written by the very dangerous – bring garlic! wurzeltod] publishes a daily contest. stupid me had missed that part. me = sloppy blog reader.
:flash: this piece by peter blegvad reminded sis and w+ of stefan g. bucher's daily monster. but ofc. me = braindead.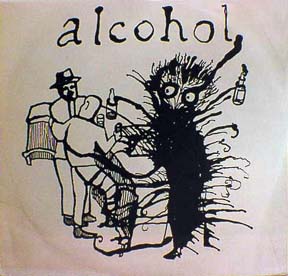 :flash: the official fumetto website produces a 403 error when you input the adress like this: http://fumetto.ch. n00bs!
HTTP Error 403.6 – Forbidden: IP address of the client has been rejected. (HTTP-Fehler 403.6 – Verboten: IP-Adresse des Clients wurde verweigert.)
me = anti-www activist.
btw. suzanne was wearing [from bottom to top], doc martens [up to her knees almost], stripey socks sporting a white skull [up to her knees for real], a red kilt for men [= down to her knees], some sort of frontal hipbag/thing sporting another white skull [containing pens, guns and such things … we assume], a tshirt saying "pathology specimen" and sporting a red skull, librarian glasses and her hair in braids. she also carried around the only skull-free item on offer, a jacket with 3 buttons, and, this is why i blog this, one of them was THE most appropriate button ever. it says, and i hope i remember it correctly: "aren't we a ray of bloody sunshine". now, i dont know suzanne THAT well, but i think this button pretty much sums her up. thx!