o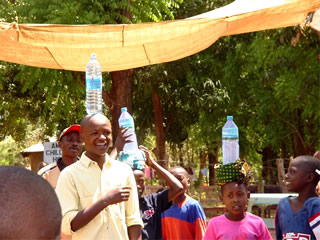 [click the image for image source]
one of my personal highlights at the recent 1. may demonstration was a man of eastafrican decent, who balanced a plastic waterbottle on his head while selling surprise, the streetmazine for people with social difficulties (aka my future career).
the man at the demonstration was walking around the crowd at total ease, very graceful even, while stepping up and down curbs, talking to people and selling his magazines.
i simply had to try at home how hard it is to do stuff while balancing a water bottle on my head.
sadly the camera on my N95 phone started up too slow and i missed to take a photo at the demonstration. i had to resort to google images for the photo above.
but here's me balancing a plastic waterbottle on my head while taking a photo of myself:
looks ridiculous? well, you try it … go ahead, send me pictures of you gracefully balancing a waterbottle on your head while taking your picture …
[post to the plastic waterbottle on head flickr group or post links to photos in comments]
disclaimer: i did not write this article while balancing a plastic waterbottle on my head, or rather, i tried but failed.
edit: habi has excellent framing
christian
frenzy
rouge
entfesselt