i am back home now!
so what to say?
i am feeling quite bombed out.
but no worries – it's the good kind of bombed out.
thinking back about copenhagen, i definitly don't like it there, more about that later…
christiania however is a really good place …
and it totally sucks at the same time.
the "free state" liberates tons of creativity – the houses that were built are amazing – artwork of all kinds is filling every last corner – beautiful old activists and their kids are zipping by on their funky bicycles. yet the strongest impression remains the dope dealer street, hustlers and consumers making a killing – not a kylling, coz that means chicken!
the street, which even on the official city map is called pusher street, buzzes like a big openair coffee shop, but uhm … what's so free about that?
still: christiania may soon get torn down, such a shame…
this can't happen!
bevar christiania!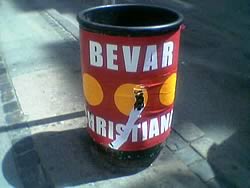 the poster on the photo can be seen all over town. yet when i asked around for some of these posters and stickers in christiania itself – i wanted to take some home and spread the word here – nobody knew where i could get them. the most engaged answer i received was: "oh, that's a good question".
that was kind of symbolic i thought …