festivals are cruel, you run around trying to catch everything, but, it's inevitable really, you end up missing the really cool stuff. i am half joking of course, but this year it really is true. here are two projects that i missed, and i honestly think those would both have been amazing.
street training with lottie child
lottie child, a london based performance artist/activist, uses the urban landscape to teach groups of people street training skills. here is how she discribes street training on her website:
Street training is the art of constantly training our bodies and minds, both collectively and individually to develop awareness on the streets. It's commonly understood that our surroundings have a powerful effect on us. Street training teaches us that we can have an equally powerful effect on our surroundings both with our thoughts and our behavior. The regular practice of exploring ourselves and our locality safely and joyfully helps Street Trainers to make positive changes in both.
for this edition of the ars electronica a "night-time exploration followed by doing nothing" was scheduled, sounds awesome:
we will walk through the night together in order to develop our street training skills. the reconnaissance tour will begin at midnight, proceed into the wee hours of the morning and continue into the new day. Culminating in a period of doing nothing at the volksgarten as training in relaxing, a vtal skill in a climae of hyperprduction and consumption.
why i missed it: i was tired and has a slight cold, blame the weather really.
audioweg gusen by christoph mayer chm
the gusen audiopath leads visitors through the now idyllic middleclass neighborhood where the nazi concentration camps gusen I and II used to be. the 90 minute audio tour contains eyewitness reports from current residents as well as from former SS members.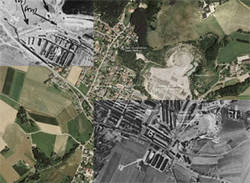 why i missed it: the shuttles left in the afternoon, and there was just always something. argh. no excuse.
mr.whippy gave me a huge scoop
well, missed opportunities *sigh. but at least mr. whippy finally was operational these last few days and he gave me a huge scoop of ice cream, my voice managed to convey my unhappiness in the appropriate fashion.