this party looks like fun, it might even motivate a tired, old grump like myself to hit the town again and dive into nightlife. maybe.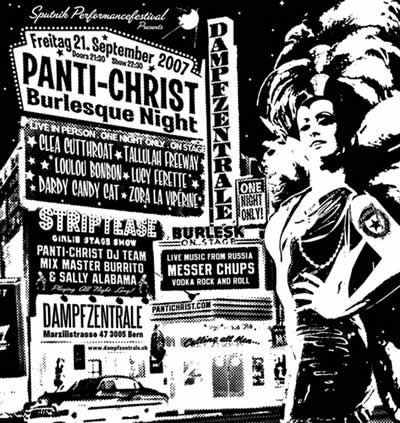 This Friday Night in Bern:
Panti-Christ Burlesque Night

featuring the sexy, seductive dancing skills of:
Clea Cutthroat
Tallulah Freeway
LouLou BonBon
Lucy Ferette
Dardy Candy Cat
Zora Vipérine

plus the wild vodka Russian rock n roll from:
The Messer Chups

hosted by:
Dink Winkerton

also Panti-Christ DJs shaking all night long:
Mix Master Burrito & Sally Alabama

and like always:
A Panti-Christ Panty Market + Voodoo Rhythm Record Stand

Friday, 21st of September
DAMPFZENTRALE

LINK
Marzilistrasse 47, Bern
Doors Open 21:30 Showtime 22:30

Get there early, this show will sell out!!
Panti-Christ? what the hell is it? i reckon they wonder about that one themselves on their website, pantichrist.com:
Yeah, Panti-Christ, what the hell is it? Is there really more to it than just mere sexy underwear and bikinis? And this Pantyland… where the hell is it? Let me tell ya, people have been asking us these questions for years. And as the official Panti-Christ spokesman I can tell you we got the answers, but still, we ain't telling ya!

We decided 'our little secret' is best kept with us. You never know who is gonna ruin a good thing like this by telling all the wrong people about it. Sometimes you gotta know when to keep your fool mouth shut… so that's what we've decided to do. We'll let you in on our secret in due time. World Domination doesn't happen over night, and good chance it won't happen here if our secret gets out. But we know you can keep a secret and we want you to join our 'Forces Of Sexy' to make this happen. We've invited people like you here to Pantyland to participate in keeping our secret as TOP SECRET as possible. Can you do that?
the 'forces of sexy' are to be joined!!!!11