the eternal toilet seat debate: should men sit down to pee? [nowai] lift the toilet seat? [ofc] lift the toilet seat and put it back down after? [ideally]
well this 9 year old came up with the perfect solution: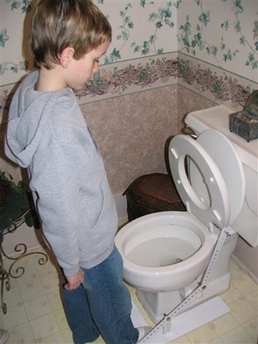 In this undated photo released by Jason Wulf, Jake Wulf, 9, demonstrates his 'Privy Prop,' a foot-activated toilet seat lifter, at his home in Odebolt, Iowa. He says he invented the prop because his mother would get angry when he forgot to put the toilet seat down.
and sort of related:
space toilet: Col. Chris Hadfield of the Canadian Space Agency visited the Ontario Science Centre and spoke about some of the very human aspects of space travel.