it was the day of the prix ars electronica presentations, the artist talks. artist talks are always risky, right? you might like some artwork, but then the artist presents it in such a way, that you feel dissappointed afterwards. the opposite can also be the case, of course, you were not exited before, but then the artist presents it in such a way, that you start to like or sometimes understand his piece. most often though your previous impressions are totally confirmed.
Pollstream by HEHE won the golden nica in the hybrid art category (i describe it more here [not online yet]). Heiko Hansen started the presentation, by saying they had alread talked so much about this project during these last few days, that he felt like showing some other work. erm, sure dude, but i kinda wanted to hear about Pollstream. no problem, at some point his partner Helen Evans cut in and started to talk about it. Heiko dissappeared from the stage at that point. assuming they are a couple, might we further assume, that they had a fight about this after? or before? or always? might conflict be the driving force behind their creative collaboration? he he, am i getting ahead of myself? but seriously, that's the kind of thoughts that goes through my mind during these talks.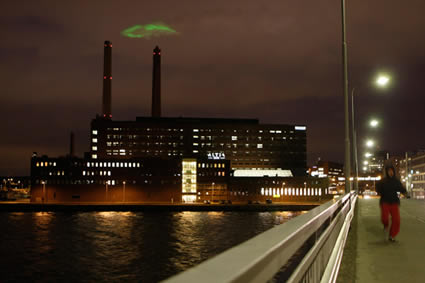 Julius von Bismarck won the golden nica for interactive art and while we can discuss, if this is in fact interactive art, i really began to like his work after hearing him talk. it starts with his look; with the long beard and straight hair, he could be a ZZ Top guitarist. or rasputin. he proved to have a really subversive understanding of his work and was completely transparent about the workings of his tool. Image Fulgurator transformed what looks like a camera into a projector. when other cameras close by use flash, it can react and project shapes of light onto objects. in that way he projected a cross onto obama's desk when he spoke in berlin, or a peace pigeon onto an image of the chairman mao in china. when asked, if he wasn't afraid, that he unleashed a beast with his invention, that soon this will get exploited by companies to project their brand everywhere, he said he was now a little bit less depressed about that possibility. when asked if he has family relations with otto von bismarck – what a shitty question – he nevertheless answered it and admitted, yes he did. now that's great, the heir of the reichskanzler doing subversive mediaart. gotta love it.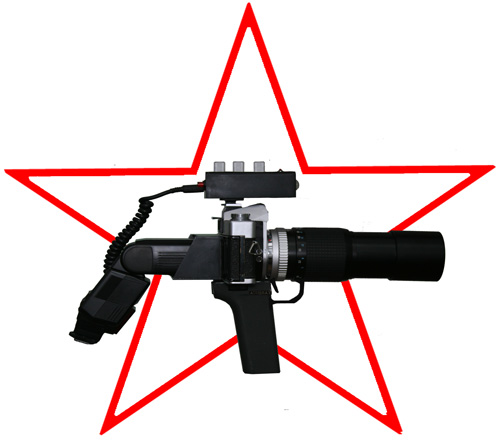 Yann Masurrich, would have made me win a bet. His project Bleu remix won an award of distinction in Hybrid Art. i described it a little bit yesterday. somehow he makes blue liquids seep out through his skin and of course everyone, and their dog, wants to know how the hell does he do that. my bet was, he wouldn't say. and i was right, he was totally secretive and evasive in his talk. and the best part is, no one even asked. i just wish i found someone to bet money on this. but everyone agreed. well i only asked 2 people, so it's not that dramatic. chill out, jan. that's me, jan. hi, nice to meet you. erm.
oh and dj spooky presented the winners in the digital music category. yay, dj spooky!!!!1
anyway. yesterday my website went down. sooo unfair. why now? no idea, when i can post this. oh it's back. meh.
what's on today?
no idea yet. the festival is petering out.
my flickr set: ars electronica 2008