i always thought there won't be VOIP on the iPhone due to contractual agreements with the carriers. so i was surprised to see fring get an iPhone/iPod Touch release. the catch of course is, that i can only be used on WIFI but not using G3, and what a joke that is. never the less fring has shot up to number 1 in the free application list at the app store. at least here in switzerland. since i have used fring for awhile on my symbian phone, Nokia N95, i thought i'd compare the two implementations: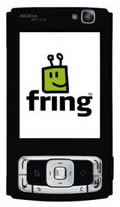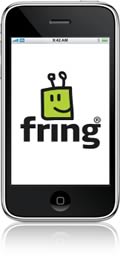 fring on iPhone/iPOd Touch
positive:
the graphic interface is awesome
negative:
VOIP limited to WIFI, and therefore dependent on the solidity of the WIFI connection
can't run the application in the background, when i close the application i disconnect from the service
the oh soooo annoying auto-correction feature can't be switched off when typing IMs
fring on symbian
positive:
lets me chose if i want to use WIFI or my mobile connection
has a hide feature, meaning it is still running in the background while i am doing other things
i can type IMs with my keyboard similar to text messaging, auto-correction i can switch off
negative:
the graphical interface is atrocious looks extremely retro and fuzzy
basically the iPhone implementation is pretty to look at but other than that pretty much unusable. i love pretty things so i might still prefer to use it, if say i am next door waiting for someone to log onto skype. but nothing else makes sense.
(btw. i installed this on my iPod Touch, knowing full well that i cann't use the skype call function, which i could only use if i jailbreak my iPod. but fring is a decent IM client as well, it lets me add icq, yahoo, msn, aol accounts and use my iPod touch to be available for IMs.)