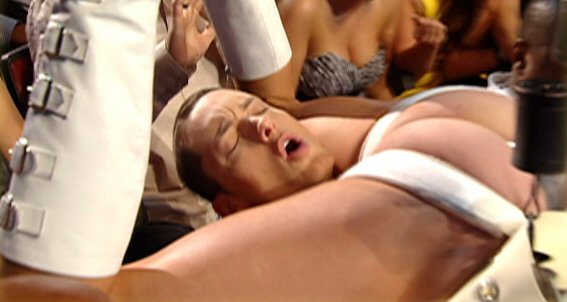 i went to see brüno a few days ago. its pretty hilarious. here are two thoughts i have, both having to do with language:
the "german" brüno speaks in large parts of the movie is terrible
in quite a large portion of the movie brüno speaks "german", mostly with his assistant, but also in some other situations. as a german-speaker i was shocked to see, how terrible his german was. he makes mistakes in syntax, vocabulary, grammar, you name it. i had noticed similar mistakes in big holywood productions before, usually the german you see in english movies is just kauderwelsch. brüno however tops them all. if the main character of a movie is supposed to be a german-speaking native, and if the dramaturgy forsees him speaking german in parts of the script, well then it should be actual, well-researched german. not something that sounds like google-translated bullshit.
which are gonna be the catchphrases
after borat many catchphrases made the rounds, "great succes", "very nice", "it's sexy time" were picked up by teenagers around the world. i wonder if there will be such catchphrases after brüno. and if so, which ones will they be. my wife is a schoolteacher and she says she will find out soon enough, when school picks up again after vacations. my money is on "these queens better agree on something soon" or "osama bin laden is so 2001", where osama is replaced with anything that fits the situation. but it could be much simpler, something like "whatever" said with that trademark german accent "ffateverr"… we shall see. maybe its snoop doggs, 'gay gay gay … ok.