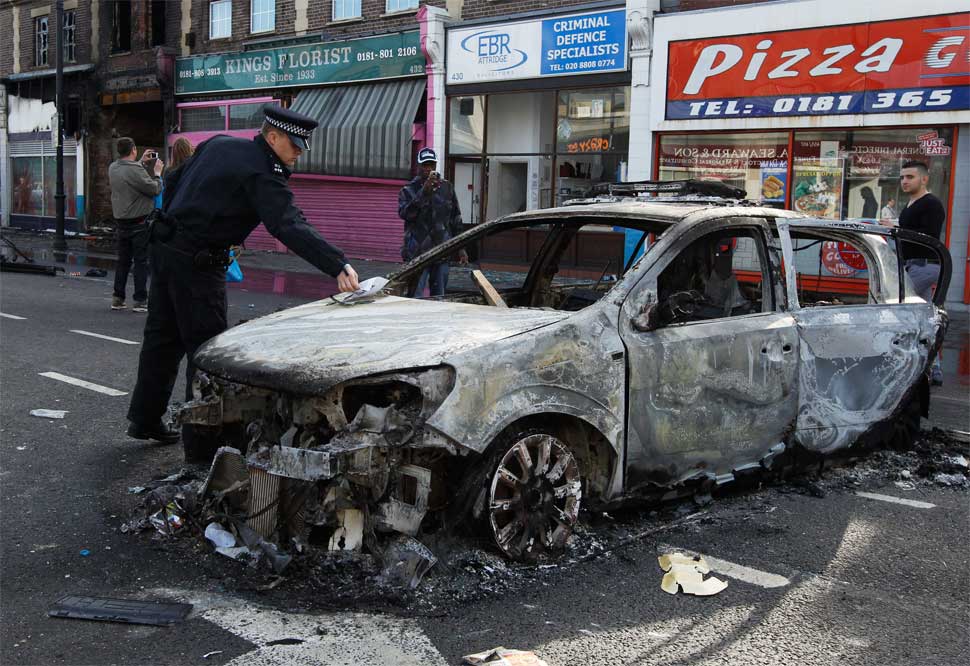 A traffic warden places a parking ticket on an illegally-parked car in London, England
Analysis
@suzanne_moore – Fed up by everyone here who "knows" why this is happening. We dont.
If the rioting was a surprise, people weren't looking
"To behave in this manner young people have to believe they have no stake in the neighbourhood, and consequently no stake in wider society."
Panic on the streets of London.
"a young man in Tottenham was asked if rioting really achieved anything:
"Yes," said the young man. "You wouldn't be talking to me now if we didn't riot, would you?"
"Two months ago we marched to Scotland Yard, more than 2,000 of us, all blacks, and it was peaceful and calm and you know what? Not a word in the press. Last night a bit of rioting and looting and look around you."
[This article is from July 29., but receives much new relevance now in the light of the London Riots.]
Farewell youth clubs, hello street life – and gang warfare
"When we are all together with our hoodies up, no one wants to be around us," he said. "The youth club was just a place we could all go and have fun, at least we had somewhere to go. Now we walk down the streets, we get pulled over by police. There is nothing here for us."
"In terms of policing, one of the clearest effects to emerge from studies of riots and crowd control is that an indiscriminate kicking from riot police can massively increase the number of people in the crowd who become violent."
We have created a society of looters
"We are reaping what has been sown over the last three decades of creating a grotesquely unequal society with an ethos of grab as much as you can by any means. A society of looters created with MPs and their expenses, bankers and their bonuses, tax-evading corporations, hacking journalists, bribe-taking police officers, and now a group of alienated kids are seizing their chance. This is not to condone but to understand. Addressing inequality is the only way we can avoid a rerun of these riots."
"However did these young people acquire such a bizarre combination of hatred and brand loyalty? How indeed."
The Role of Tech
@Riotcleanup Clean Up London – We're live. Locations to come very very shortly. #riotcleanup
London Riots: Twitter That Caused Them?
"Twitter is being used to exchange messages in the way that previous generations used technology such as phone, email and SMS. To claim that Twitter had a role in the Tottenham riots is as credible as placing the blame at the hands of mobile phone handset manufacturers or mobile operators."
London Riots: BlackBerry Messenger Used More than Facebook or Twitter
"But it soon became clear that BBM was by far the most popular means for rioters to communicate. BlackBerry devices, cheaper and more widespread than iOS or Android smartphones, are owned by more than a third of British teens, according to a recent study."
London riots: BlackBerry to help police probe Messenger looting 'role'
"We feel for those impacted by the riots in London. We have engaged with the authorities to assist in any way we can," Spence said. He added that RIM complies with UK legislation on the interception of communication and co-operates fully with the Home Office."
London Police Enlist Flickr to Catch Rioters
"As part of "Operation Withern," the Metropolitan Police have set up a flickr page with CCTV images of alleged law breakers and looters as part of their investigation into the "serious disorder and violence that has been affecting parts of London." Officials are asking the public to help identify the dumb, but smartly disguised troublemakers."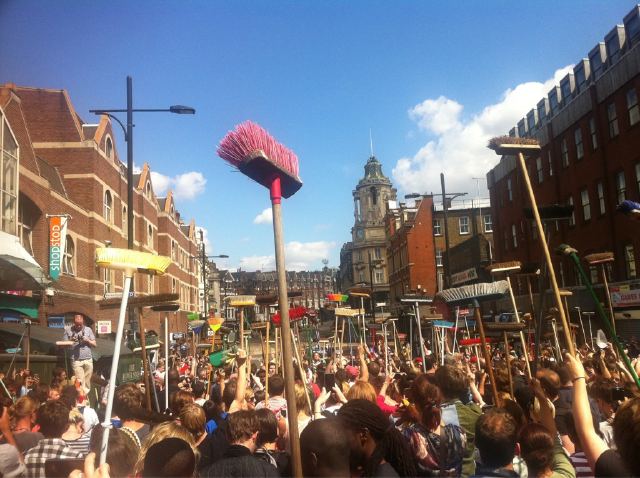 Odds and Ends
time-lapse video of tottenham riots
a crowdsourced map of verified riot areas
the most shocking video yet, a kid is on the floor bleeding, helped up to get mugged.
a guy flashes his arse as sky news helicopter zooms in on him
another gallery with big photos
UK riots: Before-and-after images of the devastation
Aaron Biber, 89, assesses the damage to his hairdressing salon after riots on Tottenham High Road on August 7, 2011.
Aftermath
Independent music labels' stock destroyed in warehouse fire
"The UK's independent music scene has been rocked by the destruction of a warehouse in Enfield which contained stock from many British labels. Sony Digital Audio Disc Corporation (DADC) in Enfield held stock from distributor PIAS, which licenses and distributes music from around 165 of Britain's independent labels, including Rough Trade, Beggars, Ninja Tune, Domino and Warp."
I will add more intersting stuff as i find it.
Handmade hashtag. Impromptu bulletin board gives positive voice to riot-struck Londoners