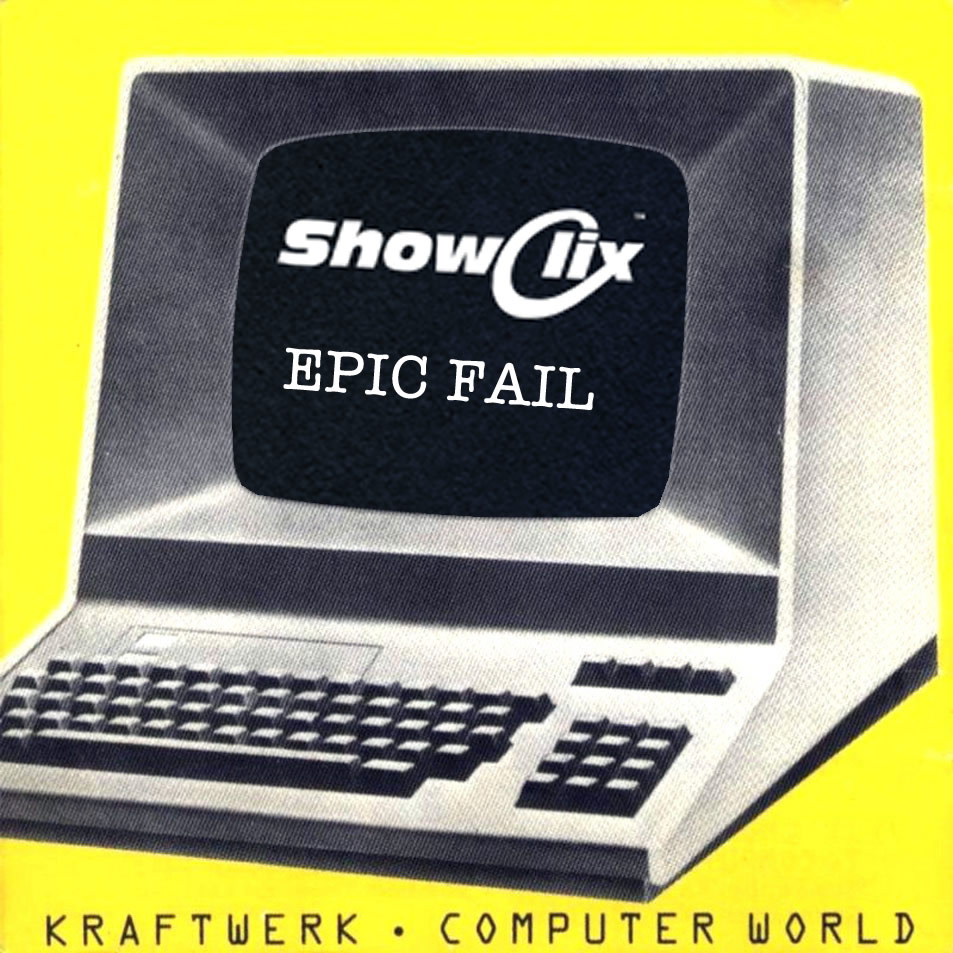 Hitler was right, this turned out to be a debacle…
Yesterday at 12 pm EST time, 18:00 here, like many Kraftwerk fans worldwide we were perched over our computers trying to score our Kraftwerk MoMA Retrospective Tickets. Both of us had four browser tabs open with the shows we wanted to see according to our priority list: Computerworld, Man-Machine, Radio-Activity and Trans Europe Express. We spammed our reload buttons to get in the queue, which eventually did happen for all our choices. The @ShowClix website then informed us that we were in the queue, no need to reload our browser windows, but no information was given on what position of the queue we were in or how many tickets were left on sale. So we waited and kept checking our tabs, ctrl tab, ctrl tab, ctrl tab.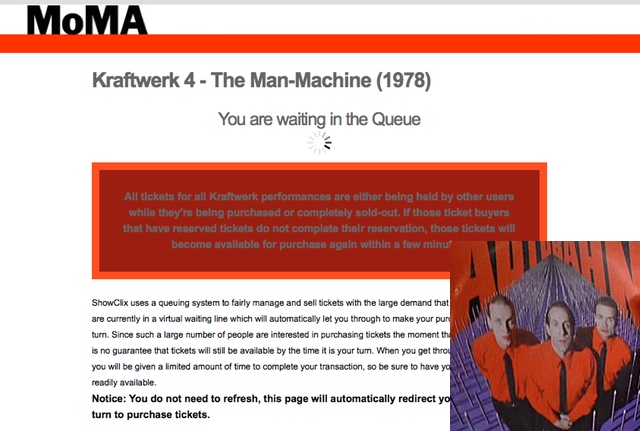 After about 20 minutes of this one of the queues opened up for us. Man-Machine. Yet the ecstatic joy we felt was of a short nature, because what followed were forty minutes of brutal and total agony between Connection Time Out Failures and dubious Errors processing our Credit Cards.
At times it took minutes to even load the Order Forms and then Payment Forms. One Time when we finally were on the screen where you input Billing Address and Credit Card there was only one minute left on the count down clock, yes, there was a count down, that was supposed to remove us from the line, if we took too long to make our purchase.
Interestingly enough it did not actually remove us from the line, we were able to keep on trying, which technically is of course another failure. But we were not complaining about that part at the moment. But keep trying we did. And the site kept rejecting us or the connection timed out on us.
First it asked for something weird "Territory" on the address form, that is something we never use in Switzerland. Territory? Well, after a few wasted tries with slowloading error message we figured out, that they wanted it to say "Bern". We had tried "Be" and "CH" before.
But from then on the site stubbornly refused to accept the two Credit Cards. We tried many times over. We received an error message saying that the Credit Card could not be approved and to contact Customer Service. When we did call ShowClix Customer Service we were put on hold with torturous music and a guy who kept asking us, if we knew that we could purchase tickets on their website… Right. Hours later when we finally did get through to Customer Service they were rude and incompetent and didn't even log my complaint ("Just send us an email and we'll look into it" "Well, I just called long distance to look into it").
In all we went through five or six such cycles, each time the count down clock ticked down on us, our Credit Cards rejected, the same Credit Card we had succesfully used a few hours earlier to book a flight and a guest room, the clock ticked down but we were not actually removed from the line… Epic Fail.
At the very end another queue opened up for us, this time for Trans Europe Express. But when we managed to load the Order Form it informed us that all tickets had been sold out.
And eventually this was the message everywhere. All shows sold out.
I hear that many people never even made it out of the queue, and while that is unfortunate, we could have accepted it more easily. It would have meant we were too slow, or too unlucky, or too something else. But to make it out of the queue, to actually choose the tickets and then be refused by a website that fails, that was pure torture. The tickets were right there, ready for us, teasing us, but we were not allowed to pick them up… Horrible.
Well, may be we should have been warned, Man-Machine is scheduled for Friday the 13th…
Even before this debacle we decided to book our trip to NYC at any rate, not depending if we got Kraftwerk tickets or not. It's been years since we last visited, and there so many great things to check out. It will be my 50th birthday that week and what better place to celebrate it than the city you were born in. Kraftwerk tickets would have been the icing on the caek, a big thank you to @ShowClix for messing that one up…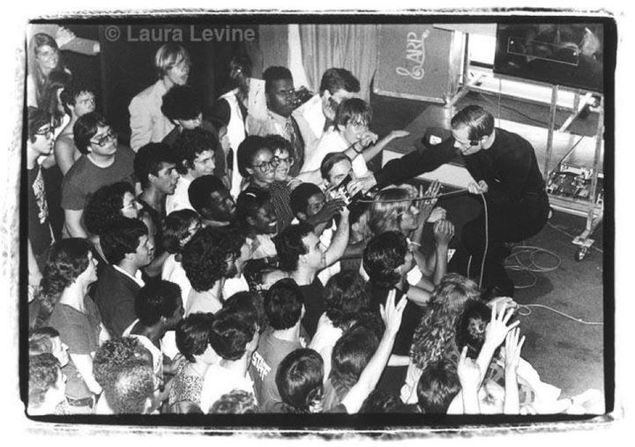 [image: Laura Levine]
a few other posts:
Did anyone get tickets to see Kraftwerk @ MoMA?
Most Kraftwerk Fans Scheisse Outta Luck
edit: ShowClix CEO Joshua DziaBiak issued an apology, pretty much a full on mea culpa, but that still doesn't give me my ticket…