The Romandie is the French part of Switzerland. They do everything better than we Swissgermans, but we especially love their deserts:
Gâteau du Vully
This recipe is a combination of two recipes: 1 2. The latter worked better but used lard, the other had all the ingredients right.
350 g Flour (Zopfmehl)
1/4 teaspoon salt
15 g fresh yeast
1 tablespoon sugar
2 dl milk
1 small egg
40 g butter
1 dl cream
1 egg yolk
75 g coarsely chopped sugar cubes or we use Hagelzucker
butter
Add the sugar to the yeast to activate it, let this stand for 1 hour
Pour the yeast and sugar in the milk, stir
Combine the flour, salt, add the butter to crumble it, add the milk and yeast and eventually the egg, knead this as you would a light, yeasty bread dough
Spread the dough to fit on your baking tray (30 cm)
Cover the dough with a humid cloth, let it rise for at least one hour
Combine the cream and egg yolk, mix it well
With your finger punch holes into the surface of the dough, add small chunks of butter
Spread the cream mixture on top
Bake a very hot oven for 8 – 12 minutes (longer if your oven is not hot enough)
In the Romandie this is eaten as an aperitive together with white wine. We love it as a desert. OMG.
There is also an excellent, slightly different recipe [in German] at einfachessen.ch and another one with rhubarb.
We have added some fresh elder flowers on top, and loved it.
Tarte à la raisinée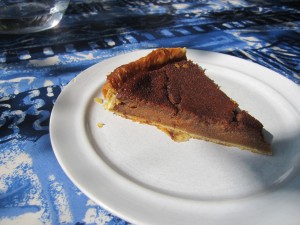 With a bit of patience you can make raisinée yourself by slow cooking fresh squeezed raisin juice until it thickens into the consistency of caramelized honey. The smell in the kitchen will be heavenly.
250 g of Shortcrust pastry (Mürbteig)
3 dl cream
1 dl raisinée
1 tablespoon arrowroot powder or maïzena
1 egg
3 tablespoon white sugar
Pre-heat the oven to 200ºC
Place the dough on a 30 cm baking tray
Bake it for 20 minutes
Mix the cream, raisinée, arrowroot powder, egg and sugar in a pan, and gently cook this for a few minutes while stiring
Spread the filling on the tart and bake for a few more minutes, until small air holes appear, it can also lightly burn.
Let it cool and enjoy. This works well with ice cream or whipped cream. And the tarte will be even better the next day.
Gâteau de Payerne

150 g butter
100 g sugar
125 g ground hazelnuts
150 g flour
pinch of salt
125 g ground hazelnuts
85 g sugar
vanilla sugar
1.5 dl cream
For the dough combine butter and sugar, then slowly add hazelnuts, flour, salt
Let it sit in the fridge for one hour
For the filling combine all the ingredients
Split the dough in half, spread the first part to fit your baking tray
Add the filling, starting from the middle
Cover with the rest of the dough
Bake at 180ºC for 30 – 40 minutes
Let it cool, sprinkle with icing sugar