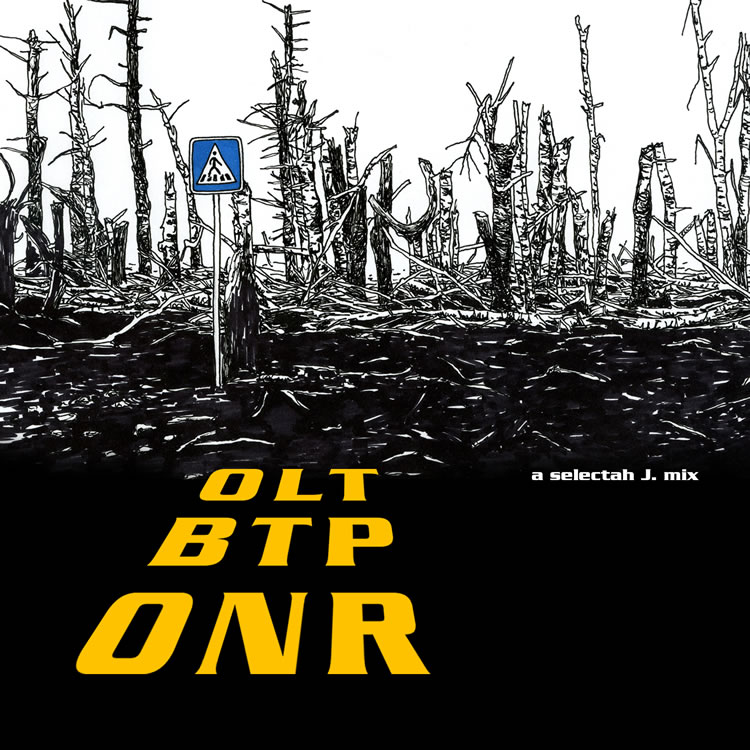 DOWNLOAD: OLTBTPONR [144.2 MB – 1:00:00 – 320kbs]
Yes yes, long acronyms are all the rage, I know.
And in case you didn't guess what OLTBTPONR stands for:
One Last Try Before The Point Of No Return.
I started this mix feeling mildly hopeful for the COP21.
I wanted to make a mix that conveyed that hope.
But.
Yeah.
Hope is poison.
We live in desperate times.
Everything seems to go wrong at the moment.
So we try to change the world.
I wanted to make a mix that incited change.
But.
Yeah.
We can't.
Change the world.
I feel pathetic.
My mixes are silly, ridiculous.
They are my occupational therapy, when winter starts and I have to stay inside.
But.
Yeah.
Glad we cleared that up.
Nevertheless I do hope you enjoy this selection.
And please do tell a friend 😉
TRACKLIST:
Various Artists – A Selectah J Mix
One Last Try Before The Point Of No Return
Tracks
1. Nicolas Jaar – Fight
2. Philip Glass – Protest (Jóhann Jóhannsson Remix)
3. Dreadzone – Fight The Power '95
4. The Isley Brothers – Fight The Power
5. Public Enemy – Fight The Power
6. Dub Syndicate – Fight The Power
7. Dreadzone – Fight The Power (Dreadzone Dub)
8. The Flying Lotus – The Protest
9. DJ Spooky – Revolution Disco Dub
10. Lilly Wood & The Prick and Robin Schulz – Prayer in C
11. The Chemical Brothers feat. Q-Tip- Go
12. Spoek Mathambo – Control
13. Baby Ford – Children of the Revolution
14. Violent Femmes – Children Of The Revolution
15. Soulwax – Children of the Revolution
15.1 Offland – Wait
15.2 The Stone Roses – Fools Gold
16. Dead Prez x Yasiin Bey x mikeflo – Made You Die (Trayvon Martin Tribute)
17. Roots Manuva – Like A Drum
18. Sage Francis – Conspiracy To Riot
19. Buck 65 – Protest
20. Keny Arkana – La Rage
20.1 Miss Silencio & Dr.Atmo – Lebe Deinen Traum
21. Tame Impala – Let It Happen (Soulwax Remix)
22. Saul Williams – Horn Of The Clock-Bike
23. Boards of Canada – Dayvan Cowboy (Odd Nosdam Remix)
And Additional Samples From:
Hallucinogen Honey Hunters
submedia smoothie
Fargo
mr.robot
Adele narrated by Attenborough
Homeland
Jeff Bridges guest on The Daily Show
Dr. Who
This is England '90
Crass Interview 1981
LINKS:
Cover created by: @fr3nzin3 (Thanks 1 Trillion) (the cover is, of course, again, the best thing about this, thx love!)
More of my mixes (with more great covers) can be found here: pieceoplastic.com/index.php/mixes
COPYLEFT:
All music and audio is borrowed with the utmost respect for its creators.
I consider this to be fair use.
This material is created purely for fun, to share with my online friends.
There is no commercial transaction involved.
If you want to support something useful please support the top project, who just started their first fundraising campaign: tor blog (I am not involved with this project in any way, other than as a fan).
As a long-time DJ I own 5'000+ albums in vinyl and quite a few cd's.
All the music I use for these mixes, I either own a copy of or it was released under a CC-license to begin with.
I release all my work, the DJ work as well as all my other coding and creating, under a creative commons license, hence I treat this material as if it was under CC license.
I attribute all the music and I do not use it for commercial gain.
Don't try to sue me, i am broke anyway.