last week i received a copy of the four-disc set coyle & sharpe: these 2 men are impostors [after very briefly mentioning it on my blog; thx so much mal!].
the 3 CDs and 1 DVD contain a ton of material and most of it is absolutely hilarious. on one of their original album covers the title reads: "the insane (but hilarious) minds of of coyle & sharpe", that about sums it up. during the early to mid 60's coyle & sharpe performed man on the street interviews for their radioshow on KGO "san francisco street auditions"; apparently they were pioneers of this type of prank-interview, that we now are quite accustomed to. imagine a kooky scientist version of borat or samantha b. and you're almost there. some of this is WAY geeky. love it.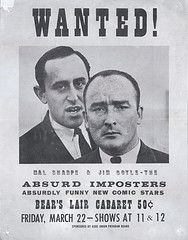 of course it is always amazing what the presence of a microphone or video camera will do to make people behave different from the way they normally would (guy gomma comes to mind …). yet some of the schemes and scenarios these guys get away with are almost unbelievable. often coyle & sharpe seem to approach their "victims" with a preconceived plan or notion of what they want to talk about. but i like them best when they just improvise, going with whatever presents itself in the interview. that's when they start to really feed off of each other and keep pushing their pranks further into ever more absurd territory. at times you can hear them crack up in laughter themselves, the laughs in turn gets weaved into the tale. in certain situations they wait until the very last moment to reveal the humourist nature of the interview, pushing the interviewees pretty darn close to utter outrage and/or frustration. in "grevenz" they attempt to convince a guy, that he is hypnotised and can no longer communicate; the guy (named stephen king btw) keeps repeating "i can still speak" until he finally walks off. for "polilingua" coyle & sharpe interview a swiss man asking him about the four languages that our countries has, they then start to improvise the languages they plan to impose in a multi-lingual san francisco – another one of my favorites.
at times the quality of the audio is a bit rough, but on the whole this just adds to the experience. what this cd does best is that it humbles a tragic hipster like myself, who usually does not bother with "old" stuff. to some extent coyle & sharpe can certainly be seen as precursors of the "fake news" shows (daily news, colbert report) we have come to rely on during these last few years. things are often expressed best by just spinning them to the absurd.
more info: coyle & sharpe official website
buy: buy cd here (with audio samples)
a recent podcast interview with mal sharpe
the warbler on youtube
coyle & sharpe flickr set
first read about them here