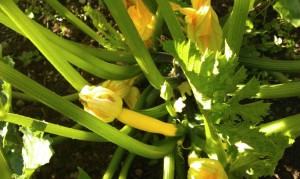 if you ever had a zucchini plant in your garden you know this: inevitably there will come a time when the yield just gets to be almost too much.
what a proficient plant. omg zomfg it's amazing.
so it's quite possible to get sick of eating zucchini, IF you don't vary the ways you eat it.
it also helps to take the zucchini when they are small and tender…
AND any zucchini will taste much much better if you sprinkle it with salt and let it "sweat" for a while before cooking it.
here's my collection of zucchini (courgette) recipes, enjoy ;p
raw
grated in salad
a very simple recipe
grate the zucchini on a medium cheese grater
add to the salad dressing in the bowl to marinate it for a while
add the lettuce and everything else you eat with your salad
eat.
my rating: 5 [on a scale of 1 – 10, 10 being best]
sticks with herbed sour cream
80's pool party, anyone?
use tender zucchini sticks
cut them to sticks about french fry size
create a dip with quark or sour cream and any herbs you can get a hold of
dip away.
my rating: 4
cooked
zucchini mash with thyme
this only sounds horrible, but is actually one of my favorite ways to prepare zucchini. and very fast.
grate the tender zucchini on a medium cheese grater
add olive oil to a frying pan, warm to medium heat, add the grated zucchini and some salt
turn the zucchini until they pull water and get soft, about 2 – 3 minutes
sprinkle with lemon juice, olive oil and some fresh thyme (lemon thyme is best)
enjoy
my rating: 9.5
fried with pine nuts and currants
i recently found this in the moro cookbook. it is brilliant and simple.
cut the zucchini into sticks, 1 cm x 6cm
drop into a colander and sprinkle with some salt
soak some raisins in a cup of water
fry a red onion (with some salt) on low heat until it caramelizes (about 15 – 20 minutes)
remove the onions, set aside
lightly toast the pine nuts, remove them too
now quickly spray the zucchini with some water, and fry them in olive oil for 2 – 3 minutes
drain the water from the raisins
mix everything together
nom nom nom
my rating: 10
tempura
this takes some more effort, and works best combined with some other veggies (carrots, carrot greens, sugar snaps, younameit) and your favorite tempura sauce.
create the tempura batter by combining beer, flour, salt to get the right consistency
heat sunflower oil to high in a frying pan (it takes quite a lot of oil)
turn the veggies in the batter and fry them until they are crispy, y'all had tempura before…
dip in tempura sauce and tip your hat to japanese genius
my rating: 9
deep fried with pesto
a very fast way to prepare it and make it stand out
cut the zucchini to small 1/2 cm slices
fry it in medium heat in olive oil
when they are nice, crispy, brown, put them on paper towel to get rid of some oil
in a bowl add pesto and turn
eat with pasta
my rating: 7.5
pie
i <3 pie
spread the dough on a baking sheet
grate or slice the zucchini
optionally add some cherry tomatoes, herbs, caramelized onions
bake at medium heat for 20 – 30 minutes (by eye)
a batter of eggs and milk can be added 15 minutes into baking it
eat with salad
my rating: 8
stuffed
a great way to deal with jumbo zucchini, it will happen…
cut the zucchini lengthwise down the middle
with a spoon take out the central parts, the seeds first and then some flesh
sprinkle with salt and set aside
prepare your filling (most people use meat, i use the flesh i scraped out earlier, some nuts, raisins, spices, and sometimes an egg, some bread crumbs, rice leftovers, cheese, whatever)
add the filling into the zucchini boat
bake for 15 – 20 minutes at medium heat
don't burn your mouth
my rating: 6.5
conserved:
grilled zucchini in olive oil
the classic.
cut the zucchini lengthwise, salt, let it sweat for 30 minutes
dip off the water with a paper towel
after rubbing some olive oil on both sides grill them on high heat
let them cool
add to a glass container, add rosemary, thyme and/or oregano, garlic is an option
top the glass with good quality oilve oil, and seal it
eat it with bread or as an appetizer.
my rating: 6
pickled zucchini with curry or not
i already wrote a detailed recipe for this here.
it can be an excellent way to deal with some huge zucchini that went out of hand.
i have to admit i am a little tired of the curry flavor, we still have many containers from last years batch.
trying to think of a different way to spice this… hmmm
my rating: 4 (but this was a 7 – 8 not too long ago)
recipes i have not tried yet:
summer squash, borlotti beans & roasted pepper soup with basil chilli oil (cotter)
and of course there's also:
ratatouille, pizza, risotto, pasta dishes … and we have not even gone near the flowers!
so this should give you some options to deal with the yearly zucchini invasion.
edit: recipes tried since
penne with zucchini, butter and mint from River Cafe Cook Book Easy
a solid dish, the butter and mint is almost as great as gnocchi with butter and sage
cut the zucchini in half lengthwise, cut 1 cm pieces, salt, set aside
start to cook your penne or other pasta (we used fusili)
take as much butter as you can handle
melt half of the butter in a heavy pan
fry the zucchini until soft, mash some, leave some whole
add some onion or garlic, mint and the other half of the butter
drain the pasta, add to the zucchini
eat with parmesan
my rating: 7
Spaghetti with Zucchini and Capers from River Cafe Cook Book Easy
Another unusual yet great combo, works great to use bigger fruits
Cut the zucchini into spears, drizzle salt, let rest
Slice Tomatoes, squish out some of the juice juice, add capers. chili, oregano, olive oil and white wine vinegar, leave to marinate for 15 minutes
Cook the spaghetti
Meanwhile, in a heavy pan fry the rinsed zucchini in olive oil until golden brown
Add to the sauce and pour over spaghetti
<3
my rating: 7
Zucchini scapece from River Cafe Two Easy
mint again, this recipe comes from the napoli region, tasty stuff, fast to cook
Wash and slice zucchini into spears, salt, let sit for 30 minutes
Fry the rinsed zucchini to a dark brown, add mint leaves for a quick stir, add chili, red wine vinegar
done
my rating: 8
Grilled courgette & fennel salad with apricots, almonds and feta from wild garlic, gooseberries …and me
suddenly we remembered this recipe we cooked last year, this is a very very nice salad by one of my favorite cooks, denis cotter
soak apricots in warm water for 20 minutes
slice fennel and blanch in boiling water 30 seconds, drain, cool in cold water
toss red onion, fennel with olive oil, grill in oven for 3 – 4 minutes
brush zucchini with oil, grill them
toss all vegetable, with the apricots, cumin seeds, fresh coriander and lemon juice
roast almonds and sprinkle over the salad with feta
nomnomnom
my rating: 9
note:
i will add some photos, and maybe some more recipes later.
please please feel free to let me know how you cook them in comments.
or how you enjoyed my recipes.
thank you.
More: