DISCLAIMER: i DO NOT ususally run out out and do everything rob b3ta recommends in his excellent b3ta newsletter!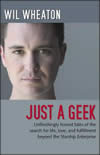 however when last week he recommended wil wheaton's new book just a geek [which he said he read in one go] i of course immediately clicked over to thinkgeek.net [where they throw in a free "geek" sticker with each order] and ordered a copy.
well, it got here yesterday [along with the "i'm blogging this" tshirt, that i was finally able to order – because in my bizarre logic the postage is too nuts to order just one thing – go figure] and i have been wolfing it down ever since.
wil wheaton is an actor [startrek, stand by me] and as i turns out a great writer, who has been running a weblog since 2001. just a geek is all about him as an actor and a blogger and its a fantastic read for everyone who is running a website. me thinks. witty, vulnerable, bloggy and not at all tooooo geeky!
[however, i still am not managing to read a book in one go. i wonder if this attention-deficit-disorder monkey will ever be able to acomplish that. i do manage to watch 1, 2, hell, even 3 movies in a row just fine, but reading a whole book? nah… its somehow too much work, when i am trying to relax my mucky braincells. just a geek is still great!]